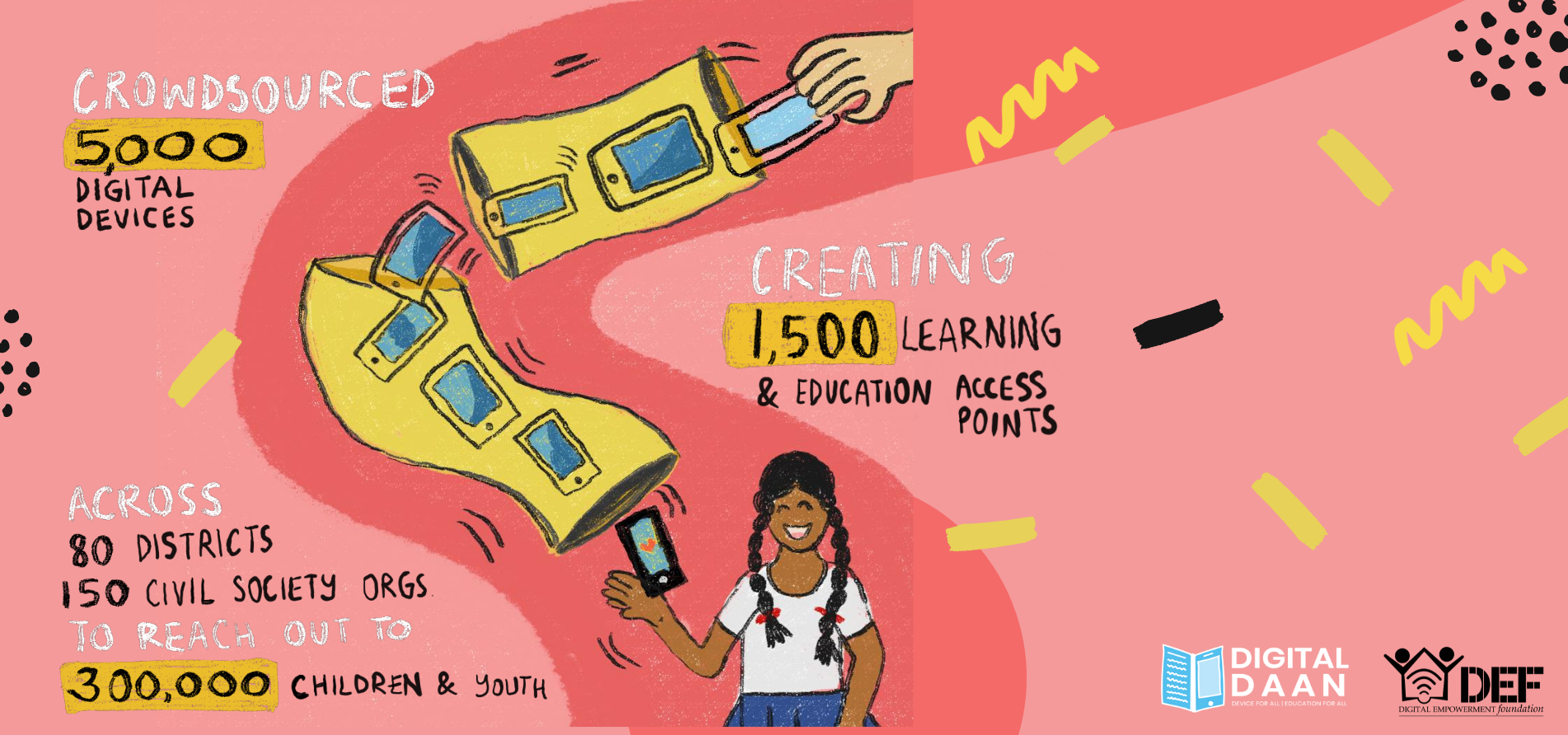 In 2020, COVID-19 paralyzed conventional ways of doing business, downsized the economy and most importantly turned upside down the educational practices.
In India alone, 320 million students have been affected as schools are closed, though the government swiftly recommended for "online teaching". But, in a situation where network connectivity is limited and have network dark areas, and while fighting for survival, education was sidelined. Among these issues one major challenge was the non-availability of modern digital devices, without which the network was useless.
This put millions of children's future into dark, who don't have access to these tools. Thus, to address the digital divide and promote inclusion, DEF initiated a program- Digital Daan.
The project aims to crowdsource the devices from urban and metro cities and redirect it to rural communities to bridge the digital divide. Digital Daan is rooted in the philosophy of giving and believes in redistribution from those who have more to those who have less—from the privileged to the underprivileged, from the haves to the have nots. The project targets rural households with one or more school-going children across 130 districts in 24 states in India.
Smartphone, laptop, tablet, desktop, printer, projector, camera or whatever e-device that is unused at home are donated at our 'Device Collection centers' located across the country. So far, we have collected 5,000 such devices. These devices are further being distributed to 500 education public access points at the rural and urban poor areas, where children can come and interact with their facilitators online at the pre-scheduled time.
This initiative has been scaled up to 1000 locations and 10,000 villages, to have community-learning platforms. It also envisions community-wide access, inclusion and widespread education especially for the girls as they are the worst affected by the shift to online schooling.
Job Seeker to Social Entrepreneur
Samarth SoochnaPreneur - Ganesh
Risk Communication and Community Engagement!
Empowering Women to Become Digital Entrepreneurs
How can rural India battle Covid? WorklifeIndia - BBC World Service
Book launch of Covid19 The New Normal Normal: How to Survive a New World Order with Seema Pathak
Book Launch of Covid 19 The New Normal: How to survive a New World Order with Osama Manzar
Book Launch of Covid 19 The New Normal: How to Survive a New World Order with Anshu Gupta
COVID-19 DEF DIALOGUE S02: In conversation with D Kumar from Kollegal (Karnataka)
COVID-19 DEF DIALOGUE S02: In conversation with Shakti Singh from Barmer (Rajasthan)
COVID-19 DEF DIALOGUE S02: In conversation with Suresh from Jharkhand
Covid 19 Digital Resource Centers